Push Notification
---
---
---
Data and event-triggered push notifications capturing your preferences
If you've got a mobile application, then you certainly need to know what exactly push notifications are. Some of you might know what a push notification is and how it works effectively, but are you efficiently using them to your benefit? Push notifications are the best marketing tool for any person with a mobile app as they help you stay in contact with different users.
Just ensure you use this strategy cautiously. If you go overboard and utilize this technique too often, it can cause the end users to mute your push notifications. This is something you'll want to avoid.
Why is it better to personalize push notifications based on user preferences?
Several Companies are these days spending a considerable amount of funds on improving engagement and boosting more sales but without much accomplishment. Fortunately, research by marketing team reveals that a targeted, relevant, and personalized push notification can carry far better results as per the expectations.
Are you curious, how much?
For mobile applications, Leanplum has analyzed around 1.2 billion push notifications; the results showed that companies or marketers that are using personalized push notifications have positively increased their engagement rate by 700%. For websites as well these results are incredible. Personalized web push notifications increase the comeback rates by up to 5 times.
Tweak your scheme a little for significant growth in customer loyalty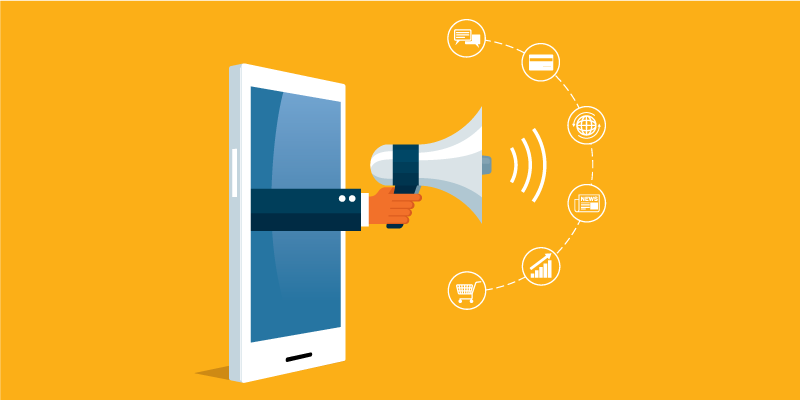 Welcome Customers
When any customer signs up for the push notifications, you can kick-start the personalized push notifications by graciously welcoming them. For instance: Send a push notification message as soon as he sign-up saying that "Thank you for subscribing our push notifications service."
Welcome messages are likely to play a massive role when it comes to client retention. Businesses that sent on-boarding push notification messages within the very first week, at the same time increase their customer retention rate by 75% for the next two to three months.
How can machine learning algorithms help push notifications smarter and intelligence?
Algorithms behind inverse recommendations
In standard recommendation circumstances, Quantamix solutions recommend items to users; in opposite situations, users are recommended to items. So for one specific item, we can get ranked list of end-users, who are most expected to buy/consume/watch it. To compute this ranked list one may utilize historical interactions among items and users. Also, attributes of items and end-users are useful particularly in cold start circumstances (when you require users for a shiny new item without any kind of interactions). A family of algorithms utilized for inverse recommendation is nearly the same as for the standard suggestion, which consists of matrix factorization, collaborative filtering, and all significant approaches.
Conclusion
Personalized push notifications are great tools that will certainly support you to boost revenue as well as user engagement. We at Quantamix solutions offer you with algorithms in the cloud enabling our customers to send relevant content exclusively to end-users. Inverse recommendations can also be utilized in several new scenarios helping you to advance your services and product.
So without waiting further, connect and optimize your relationship with your valuable customers and make your campaigns an accomplishment story by using Quantamix Push Notification Solution based on advanced analytics. At Quantamix we completely believe that an intelligent push strategy is primarily driven by analytics insights that can tip the balance in favor with the best end-user experience. Campaigns targeted to a precise group of users with enabled push notifications have more than double the open rates and triple the post-click conversions than campaigns sent to all end-users. Significant research shows that on average, 54% of users who click on a targeted push notification convert, versus 15% for a blast message. Harnessing data to target users intelligently is a powerful strategy for propelling push ROI. The Quantamix team is more than happy to discuss as well as customize the solution based on your needs. If you would like to collaborate on our solution, we are looking forward to your inquiries.
---